Portfolio
MoxieTalk with Kirt Jacobs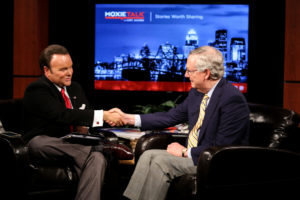 MoxieTalk with Kirt Jacobs features inspiring stories of leaders in all fields. The show's mission is to inspire, educate and engage people by sharing the stories and journeys people took in their lives to get where they are today. Formerly known as Leadership Landscape TV, the show brought in Eilert Communications to help re-brand and grow to the next level. We assembled a top team and guided the creation of MoxieTalk with Kirt Jacobs, with additional formats and platforms to serve up these inspiring stories. Now available for viewing on a new platform at moxietalk.com, viewer can elect to view videos or download podcasts for an audio experience. The first interview with the MoxieTalk brand? Senate Majority Leader Mitch McConnell. Re-branding, naming, content creation, messaging, media Relations, website design, video, podcast
American Hospital Directory
The American Hospital Directory® is an online subscription database of Medicare and other hospital data.  Eilert Communications works with AHD to secure targeted media placements. The site's data has been cited in articles in trusted national publications like The Wall Street Journal and forbes.com; in leading health care industry publications like hfm magazine and Modern Healthcare; and in leading daily newspapers like The Dallas Morning News, among others. The result is continued and sustained coverage, leading to increased traffic and visibility.
Eilert Communications has also advised on site design, site conversion audits, new products and video tutorials for site usage. Media Relations, Website audit, Video
"Eilert Communications has helped us achieve extraordinary results at costs within our means. Our experiences prior to discovering Eilert were costly and often not productive." – Paul Shoemaker, president, American Hospital Directory
Tellennium Inc.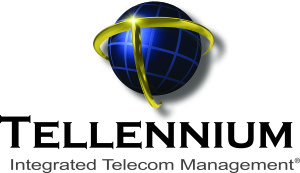 Tellennium specializes in assisting large companies to take control of and manage their telecom expenses. Communications networks represent the largest percentage of a company's IT expense; reigning in control of those expenses is what Tellennium does best. And they do it well. Earning a place on the competitive INC. 5000 fastest growing companies for an impressive nine years in a row, they have an impressive resume. The company came to us for assistance in visibility and communications. We worked with their senior team to develop fresh content ranging from a new white paper, feature articles, case studies and more. Content creation, messaging, media outreach, sales collateral, design, editorial placement, advertorial
John Waters Inc.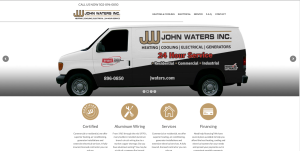 A leading HVAC and electrical services company in Louisville, KY since 1962, John Waters Inc. came to us for updating their presence in the market. Key objectives refreshing their branding and grow visibility in their target market resulted in an overhaul of everything from the look of their vans and trucks to a new website, advertising presence, and enhanced digital strategies. We worked with their senior team and an agency of record to update branding, and develop a multi-media marketing mix in the market. Website redesign, brand re-vamp, advertising mix, sales collateral, digital marketing
Louisville Master Chorale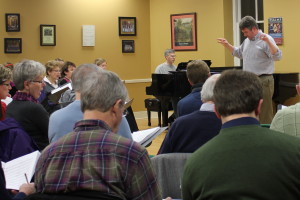 At a time when arts organizations struggled to survive, the Louisville Master Chorale began it's mission to ensure live choral performances remain viable and accessible. We have provided PR and publicity support since the group's inception in 2011, and watched it grow in a challenging environment.
Media coverage has helped the group gain visibility and support, and promotion through events calendars and interviews has garnered consistent audiences. Media Kit, Media outreach, press kits, events calendars
CostReportData.com
When CostReportData.com launched, Eilert Communications assisted in pre-launch contacts, press kit creation, and media outreach. The site offered subscriptions for up-to-date cost reports, a revolutionary access to Medicare reports previously available only in print. Media coverage since then has included regular appearances in hfm magazine (the official magazine of the Healthcare Financial Management Association), along with business media like Crain's Detroit Business. Media Relations, Site conversion audits, launch strategy
The Louisville Bach Society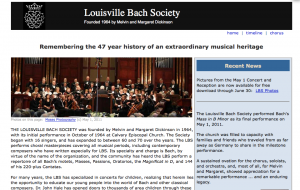 The Louisville Bach Society came to us with the desire to help communicate their final concert performance, and the news of the organization's decision to disband after 47 years of performing in the Louisville, KY community. Melvin & Margaret Dickinson, the founders, would retire at the season's closing performance of Bach's b Minor Mass.
Our task was threefold: announce the news in a way that focused on the final concert, co-ordinate communications of the celebration of 47 successful years of excellence in music and create a legacy presence for the community. The organization received significant media coverage in print, broadcast and online. As a result, the final concert was sold out. A legacy website includes a living time line, list of singers through the years and a history of the organization. Media Relations, Social Media, Website, Living Timeline
A Website for Change
When Blackstone Media Network wanted to give back to the community, they gave what they do best: a website. The promotion "A Website For Change" offered qualified not for profit organizations to enter for an opportunity to win a website for their organization. Five organizations made the finals, and the community voted on which one they wanted to win.
Family Scholar House won the website. Eilert Communications assisted in the promotion details, and publicizing the event from launch to final winning announcements. Promotion, Media placement