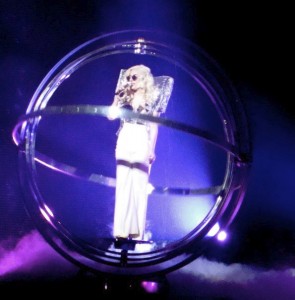 Lady Gaga.  At 25 she seems to have come out of nowhere and then appears everywhere. How does she inspire such devotion from her fans?
Here's how: aside from  costumes, choreography and vocals that stand out from a "me too" sea of pop music, Lady Gaga is completely about her fans, little monsters, and relating with them on common ground.  She includes us,  and that is her secret sauce.
"Listen up little monsters.."
Referring to herself as "Mother Monster",  she fiercely protects "little monsters".  Her acceptance of her fans – just as they are – creates a sense of belonging. It is as if she knows each fan personally. In Gagaland, no matter how else the outside world may treat little monsters, in this world they are celebrated. Every interview, message, and staged entrance centers around the heartbeat of acceptance. And people respond.
Co-creating content with fans
A Google Chrome video, for example, was made with her fans at the release of "Edge of Glory", with Lady Gaga posting a request for uploads to be used in a film project. The video was completed in time to coincide with her performance on the finale for Saturday Night Live.
Her latest co-creation is the Fanwall. Fans can upload their picture to be included in a photo-mosiac of fans. The mosaic looks like the "Born This Way" photo of Lady Gaga – but scroll over the tiles and see the faces of fans with their own statements.
Do the unexpected
Facebook, Twitter, blogs, YouTube and websites are expected. The unexpected – live or not – define everything she does. Like Gagaville. You may know the Farmville version. Let's just say: Gagaville has more unicorns and glitter. 🙂 Where else can you find an electric chapel, mohawked cow and gemstones? And, the sheep ride motorcycles here. Why does this work so well? Simple. The unexpected creates news. And news travels fast these days – through viral means and traditional outlets.
Blend the traditional with the untraditional
For the release of her recent CD, "Born the Way", Lady Gaga showed up on every show from The View to MTV and fuseTV.  In interviews and billboards, the marketing  included an article for V magazine, tie in with Starbucks, fuseTV, and MTV. Add the Fanwall,  99 ¢ Amazon album downloads  and "Born this Way" membership ID cards and you get marketing magic. Her blend of traditional and "non-traditional" brilliantly reaches her fans wherever they may be.
Focus on your fans, and the rest falls in place
What can we learn from Lady Gaga? Keep centered and devoted to your own "little monsters" and they will notice. Business always revolves around relationships. If you focus on the people you do business with, include them, defend them and show up where they are, your business will grow.